Because of the variable nature of our products, prices are not listed;
Call us at
973-716-0225

for more information; our phones are open 7 days a week — we will return calls up to 11:00 PM. Give us a call and together we'll decide the best solution for your seating requirements. To guarantee a perfect fit with no errors, online ordering is not available.

Thank you for your 17 years of patronage. We appreciate all your referrals and confidence, and look forward to serving you, your friends and family in the future. Thanks.

About Our Company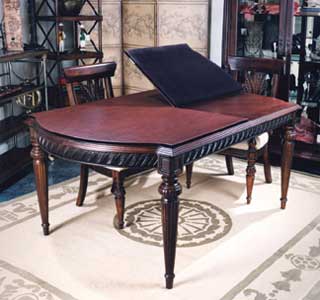 For three generations, Cohen's Table Pads has been protecting your treasured dining room tables, buffets, cocktail tables, and corporate conference room tables with our high-quality custom table pads.
We offer free on-site measuring of your dining room table, coffee table, or buffet for your table pads in the New York/ New Jersey metropolitan area. In addition, we have over 11,000 table patterns in our archives, often making it possible to size your table pads over the phone based on the manufacturer and model number of your table (which can be found either under your table or on your sales receipt). The integrity of our table pad patterns are guaranteed completely.
Our table pads are not just for wood - protect your glass and tile-topped tables from hair-line cracks and scratches.
Use our custom pads to protect your coffee tables and buffets, too!
We are a creative company dedicated to handling all your table top requirements. Just give us a call!