Because of the variable nature of our products, prices are not listed;
Call us at
1.800.916.0225

for more information; our phones are open 7 days a week — we will return calls up to 11:00 PM. Give us a call and together we'll decide the best solution for your seating requirements. To guarantee a perfect fit with no errors, online ordering is not available.

Thank you for your 17 years of patronage.

We appreciate all your referrals and confidence,

and look forward to serving you, your friends

and family in the future. Thanks.
Frequently Asked Questions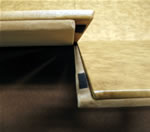 If I use your extenders, do I also need table pads to protect my table?

No. Our legged table extenders are made from materials that will protect your existing table like our quality table pads, as well as extending the table.

Can I use legged table extenders with my current table pads?

No. The table extender material is twice as thick as normal table pads and more rigid. Therefore, it cannot be added to an existing set of table pads to extend the table - it replaces the table pads.

I don't have table pads. Can I use your extender both to protect my existing table and to extend my table when I need to.

Yes, under certain conditions. Please call us to discuss your exact requirements.

What keeps your extenders from separating?

Our table extenders use our unique Ship Lap locking system to ensure a strong connection that cannot be separated when in use.

How much can you extend my dining room table?

Our table extenders can increase the length of your table by up to 30" on one or both ends, making a total of up to 60" that you can add to the length of your dining room table. In addition, we can also increase the width of your table at the same time, allowing you to possibly seat an additional person on each end of the table. That means up to 8 additional settings at your existing table!

Do I have to extend my table by 60 inches?

No, our extenders are customized for each table. You can extend your table as much or as little as you like. For example, if you have more open space on one end of your table than the other you can add 30"to one end and 20" to the other end.

Can I extend my table by more than 60 inches?

Yes, in certain circumstances we can get much more than 60 inches, depending on the structure of the table. Please call us to discuss.

Do your extenders come in standard sizes?

No. Again, our extenders are customized for each application. Just have this information available when you call.

If I just need a little more space for my table to be more comfortable or maybe only need to seat 2 more people, what can I do?

Our table extender is strong enough to extend your existing table up to 12 inches both in width and length without any additional support.

Do I have to extend both ends of my table?

No, we can extend one end or both ends. We can also extend just the length or just the width.

Are your extenders easy to store?

Yes. Our legged table extenders are made with screw-out, removable legs for easy storage, and are constructed in multiple pieces to make them as easy to store as your table pads.

My dining room table is an oval. Can I change the shape to make it more usable?

Absolutely! Using the legged table extenders to change your table shape from an oval to a rectangle makes the table more efficient for adding extra settings.

I have a round table. How can you make it larger?

We can make a round table a larger round table, normally adding an additional 5 people, or we can convert the round table to a convenient rectangular table. Check the customer-suppled before and after pictures of both situations.