Because of the variable nature of our products, prices are not listed;
Call us at
973-716-0225

for more information; our phones are open 7 days a week — we will return calls up to 11:00 PM. Give us a call and together we'll decide the best solution for your seating requirements. To guarantee a perfect fit with no errors, online ordering is not available.

Thank you for your 17 years of patronage. We appreciate all your referrals and confidence, and look forward to serving you, your friends and family in the future. Thanks.
Gaming Table Extenders
Card Table Extender
See how this small folding table can be transformed to seat 8 people in seconds.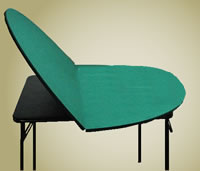 Our Card Table extender will expand your table surface in seconds! You can create a large 48-inch or 54-inch diameter, round table surface on any standard card table. The Card Table extender increases seating to six for dinner, or up to eight for a card game.
Convert any small table into a 48- or 54-inch round or octagonal extender for dining, entertaining, games, puzzles or crafts.
Two side straps with closures allow secure attachment to card table legs with either side up. The upholstery grade, leather grain vinyl top is stain resistant, and is easily cleaned with a damp cloth. The bottom is covered with a fully woven polyester fabric, brushed on one side to create a soft, yet durable surface that will not harm any card table top or furniture finish.
The card table extender comes in the following colors (click on a picture to see a larger version):
bruno
caramel
black
chestnut
cranberry
caramel
glacier
sand