Because of the variable nature of our products, prices are not listed;
Call us at
973-716-0225

for more information; our phones are open 7 days a week — we will return calls up to 11:00 PM. Give us a call and together we'll decide the best solution for your seating requirements. To guarantee a perfect fit with no errors, online ordering is not available.

Thank you for your 17 years of patronage. We appreciate all your referrals and confidence, and look forward to serving you, your friends and family in the future. Thanks.
Our extender solutions for round tables are many and varied!
Turn your round table into a larger round table, an oval table, or even a rectangular table.
No other company can offer so many options for extending your round table, in both size and shape!
Getting multiple extenders gives you multiple options for your round table!
This customer was able to increase seating for a round table from 4 to 8 using our round table extender.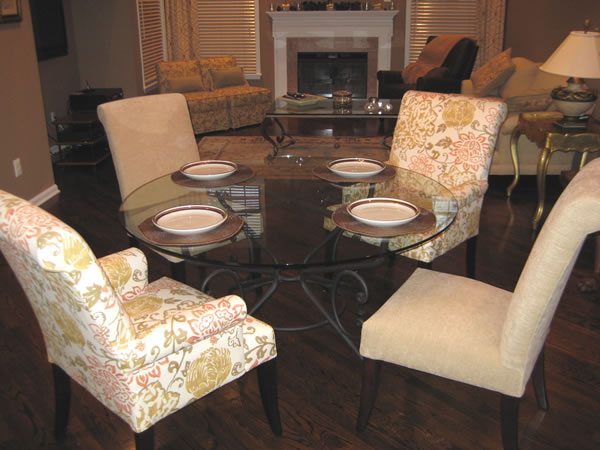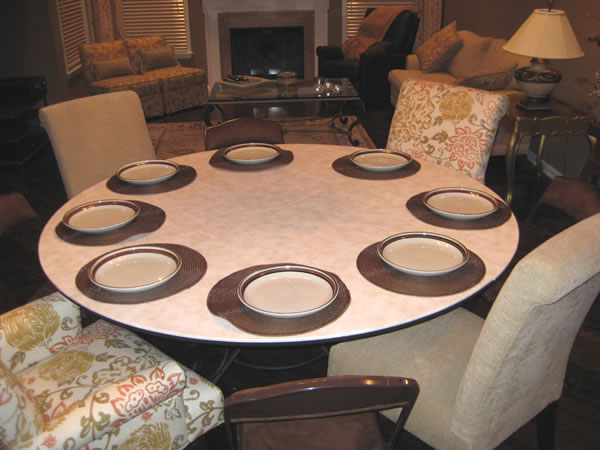 Need more seating? By changing the shape of her table from round to a rectangle, she is now able to seat up to 14 people comfortably at the same table.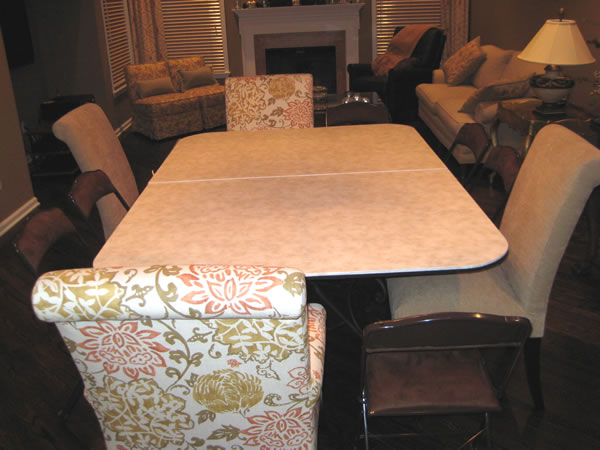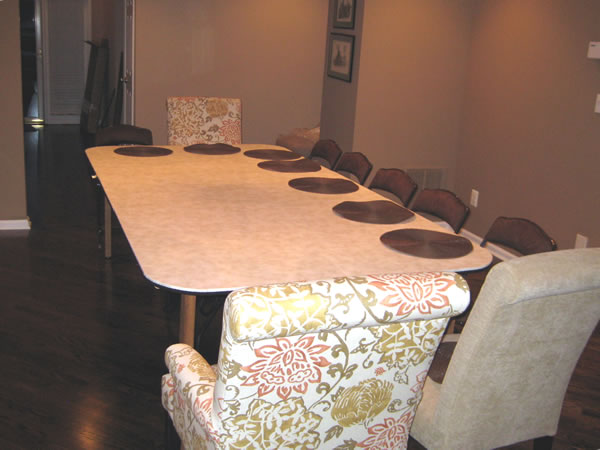 Round table extenders for private and commercial uses, too!
This restaurant in California has a gazebo that is very popular with its guests.
The problem?
Because the gazebo has 2 round tables, it's difficult to accomodate larger parties who want to reserve it.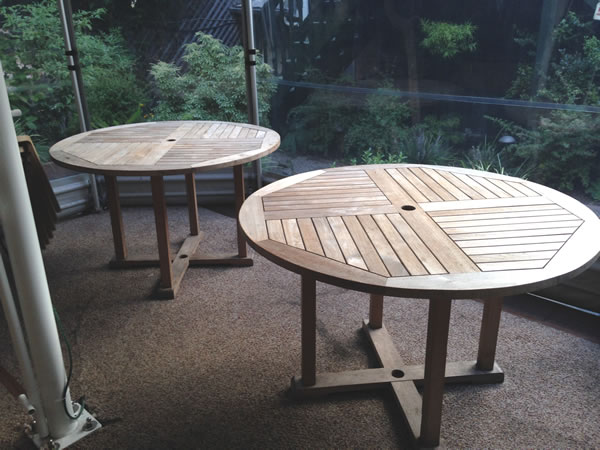 The solution?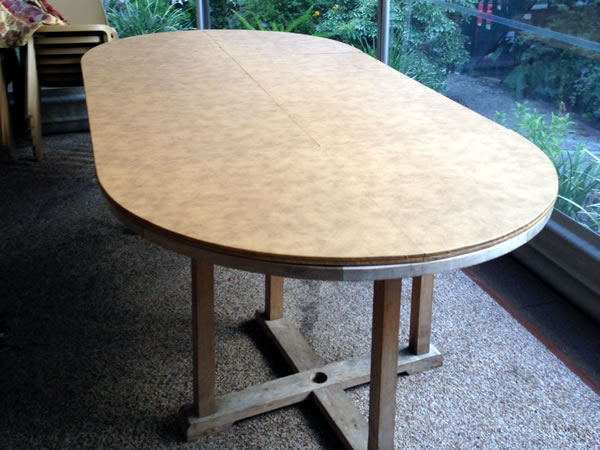 Create a custom oval extender that turns the 2 round tables into a single, large, oval table. Now larger parties can use the gazebo and sit at a single table- diners are happy, and the owners are ecstatic to get more use out of this popular spot!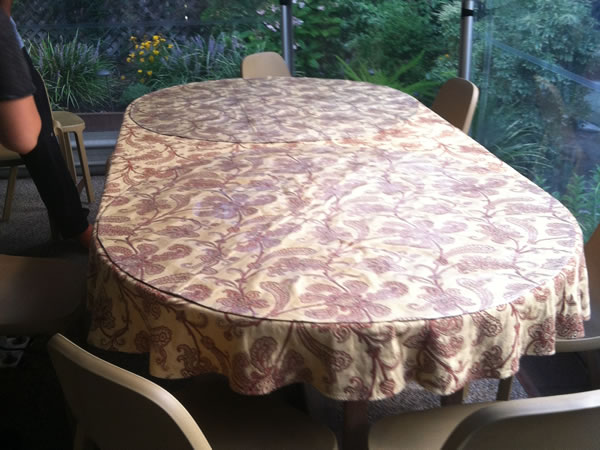 With the original glass table protectors, you can see how much space has been added to provide extra seating.

Folding Table Extenders
Now you can have a separate, large, foldable, portable table for entertaining without tying up your dining room table.
Create a 48- or 54-inch round or octagonal table in seconds.
Take this ordinary 30-inch square folding table and create a 48-inch or 54-inch round or octagonal table. A typical table only seats 4 people; the Folding Table Extender converts your table to seat 6 to 8 people comfortably.
Seat 6-8 people around your extended card table
It can also be used for entertaining — just cover it with a lined table cloth and you can seat up to 6 people comfortably with the 48-inch size, or up to 8 people with the 54-inch size.
We use only top-grade materials
The Folding Table Extender is made of the same quality materials as our regular table extenders and meets the same working specifications.
The Folding Table Extender:
Fits over your existing folding table
May be used with small round tables, too
Folds for easy storage
Is large enough to seat 6-8 people comfortably
Is available in the following colors:
Our Extenders can also be used outside!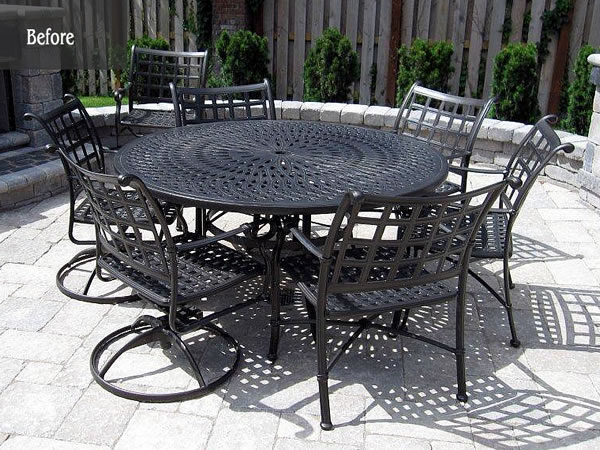 Featured Extenders
This patio table originally seated 6 people. Our special outdoor extender makes this table capable of seating 8-10 people. Our outdoor extenders are specially constructed for outdoor use.
See below for more examples of how customers are using our extenders.
Round tables into larger rounds
Ovals into rectangles
Ovals into larger ovals
Rectangles into larger rectangles
"Attached are the pictures of our table with and without the extender… I'll be sure to let our friends know how happy we are with your product.
J. K.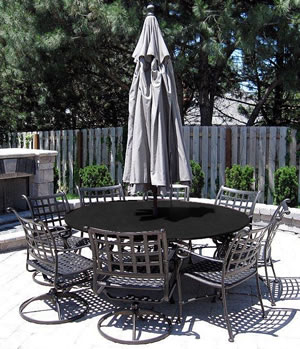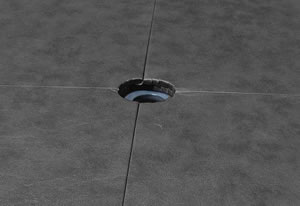 Our outdoor extenders include a center hole to accommodate an umbrella.